The products of Beauty salon in Cholsey Wallingford
FUDGE HAIR PRODUCTS FOR MEN AND WOMEN
Fudge hair products are renowned in the beauty industry. This fabulous range of products that we use in our beauty salon in Cholsey Wallingford can help add texture and definition, they can tame and mould, add volume if needed and more importantly will ensure your hair stays in good shape when out in the inclement British weather! Our hairstylists can advise on the best products to use for your particular hairstyle.
Please see a small selection of the products we stock below: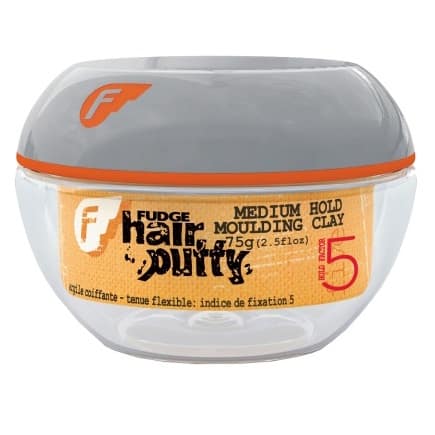 Fudge Hair Putty
Travel first class all the way with Putty, the perfect sculpting tool for maximum moulding. Blow-dry it in for extra body and kick, or finish it off for absolute moulding power with a medium hold.
What it does:
Can be used for styling or finishing

Adds volume, body and bounce (styling)

Leaves hair feeling smooth and soft (styling)

Adds lightweight texture to the hair (finishing)

Conditioning agents lock-in moisture
How to use: Styling: Apply desired amount to damp hair, allow to dry naturally or blow dry for maximum volume. Finishing: Apply desired amount to fingers and work through on dry hair.
Fudge Hair Shaper
Get onto the hard stuff with this strong hold multi-purpose styling tool that really goes the distance. Texturise, mould, piece or simply just shag it out any way you want for that totally 'lived-in' look.
What it does:
Adds strong hold to finished styles

Leaves hair pliable

Gives texture, volume and definition

Creates matte, but lived-in finish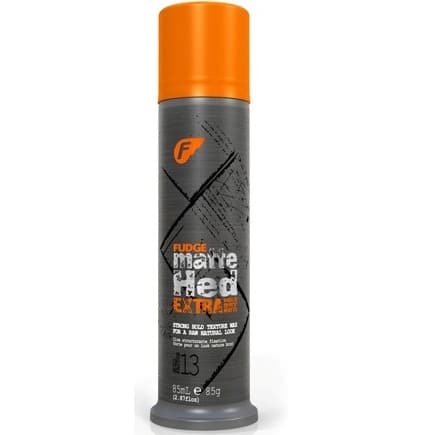 Fudge Matte Hed
A premium styling clay wax that delivers a strong hold with a matte, dry finish for a raw textured look.
Matte Hed Extra is the big brother of the original Matte Hed and in relation to the original, offers a much stronger hold that lasts longer, is significantly drier and more matte than original Matte Hed.
What it does:
Extra Matte, dry finish


Increased pliability for ease of use through hair

Larger 85g size (10g more that Matte Hed 75g)

High quality pump dispenser

Strong hold factor of 13 for longevity of style (Original Matte Hed has a hold factor of 9)

Energetic Fruit Fragrance